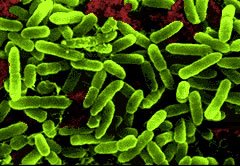 Washington, D.C.
A hefty dose of probiotics -- the "good" bacteria found in yogurts and supplements -- helps adult gastric-bypass patients lose even more weight, researchers are reporting.

The researchers didn't set out to see if probiotics could help the patients shed more pounds, said Dr. John M. Morton, associate professor at the Stanford University School of Medicine, who presented the findings this week at the Digestive Disease Week 2008 meeting in San Diego.

Morton wanted to improve the patients' gastrointestinal functioning. "Some patients [after bypass surgery] have a small amount of bacterial overgrowth [in the intestines]," he said, adding that can have an impact on gastrointestinal function and quality of life. So his team evaluated 42 patients who had undergone the bariatric surgery known as Roux-en-Y gastric bypass surgery, giving half of them probiotics daily and the other half no probiotics.

The researchers evaluated GI functioning and other measures and noted the patients' weight before surgery, after surgery, and at three and six months after beginning the probiotics program. The probiotics were given in supplement form -- 2.4 billion colonies of Lactobacillus daily.
ad_icon

The probiotic group fared better in all categories at the six-month mark -- and also lost more weight. The probiotic group lost 70 percent of excess weight, compared to 66 percent for the control group.

The finding initially surprised Morton. "But other research has suggested that part of the obesity problem may be infectious. Some of the weight gain [in obese people] might be associated with bacteria," he said.

Asked if obese people, or those who have had bypass surgery, should eat yogurt, Morton said it probably couldn't hurt, but noted that 2.4 billion colonies ofLactobacillusis a large amount to get from yogurt.

Another study presented this week suggested that for severely overweight teens, a gentler weight-loss surgery may be possible. Dr. Roberto Fogel, of the Hospital de Clinicas Caracas, in Venezuela, presented the results of his pilot investigation of 12 teens, who underwent a surgery called endoluminal vertical gastroplasty, or EVG.

During the surgery, Fogel sutures the walls of the stomach, reducing the volume of the stomach but leaving a passageway for food. The procedure is done through the mouth; a scope containing a needle and sutures is inserted multiple times to perform the procedure.

After 60 to 90 minutes, the patient can go home, said Fogel, who does the surgery on an outpatient basis. Once the procedure is done, the patient gets full on very little food, he said.

At a six-month follow-up, Fogel found that all 12 patients had lost weight. The average body mass index, or BMI, was reduced from 38.1 to 27.8; a BMI of 30 or more is considered obese.

Fogel sees the new procedure, which he has performed on 331 teens since 2005, as a possible alternative to more invasive surgeries, or diet and exercise programs that prove ineffective for some obese teens.
Labels: endoluminal vertical gastroplasty (EVG), probiotics post-gastric bypass diet
posted by iLitigate at 7:00 PM
0 Comments