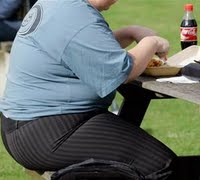 Modesto, CA
Tests have shown that Sandi Krueger's golf-ball-sized pouch no longer breaks down the food she eats, but dumps it directly into her small intestine. Before the feeding tube, her attempts to eat caused nausea and she often had dumping syndrome, a reaction when certain foods pass too quickly into the intestine, resulting in sweating, rapid heart beat and weakness.

Her journey began in 2002 with a gastric bypass at Doctors Hospital of Manteca, which later closed its bariatric program. She had constant dumping and severe weight loss, had a falling out with her surgeon and went to the University of California at San Francisco for corrective surgery in 2004.

Her condition improved for several months and then her condition gradually deteriorated. She stopped working as a nursing assistant last year and then UCSF rejected her request for a reversal surgery.

Repairs are complex

She's made the 165-mile trip to Delano because Keshishian accepted her Medi-Cal coverage and he specializes in revising or reversing gastric bypasses. A reversal has some of the same risks as gastric bypass; in addition, the surgeon must deal with scar tissue that grows between the left side of the liver and upper part of the stomach.

"You have to peel the stomach away from the liver," Husted said. "It's tricky and can take a long time."

Many patients who aren't absorbing enough nutrients can improve with counseling and treatment, experts say.

Until her surgery is scheduled, Krueger will stay with the tube- feeding routine — 44 ounces of water mixed with a formula of protein, vitamins and other stuff costing the family $549 a month. With her husband drawing unemployment, it strains the family budget, but at least she feels healthy.

"It is nice to be a mom again," she said. "It feels like I have missed six years of my life."
Gastric Bypass Malpractice Lawsuit Attorneys
Labels: bariatric surgery, gastric bypass risks, gastric bypass side effects, gastric bypass surgery, patient stories
posted by iLitigate at 8:11 PM