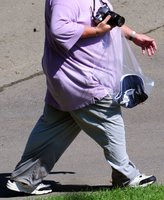 St. Louis, MO
Obese patients who undergo weight-loss surgery have a low risk of dying or developing complications that require a second surgery or longer hospital stay, a study found.

About 4.1 percent of 4,610 people in the study who had either gastric bypass surgery or gastric banding developed at least one major complication in the 30 days after surgery, according to research published today in the New England Journal of Medicine. Those who underwent gastric banding had fewer complications.

Weight-loss surgery has soared in popularity in the U.S. The number of such operations rose more than tenfold to about 171,000 in 2005 from about 16,200 in 1994, according to an editorial in the journal. The data shows that, at least in the short term, these procedures are relatively safe and future research may help identify which surgery is best for a particular patient, said study author Bruce Wolfe, a professor of surgery at Oregon Health and Science University in Portland, in a telephone interview. Based on the findings, he said, "the surgery is basically safe."
Gastric Bypass / Gastric Banding Malpractice Lawsuit Attorneys
Labels: bariatric surgery, gastric bypass research, gastric bypass risks, gastric bypass surgery, obesisty risks
posted by iLitigate at 5:38 AM