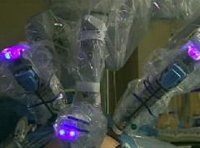 Phoenix, AZ
Gastric bypass surgery has gone robotic at one Arizona hospital.

Using robots, doctors at Banner Gateway Medical Center can perform the surgery from inside the person's body, KPHO-TV reported.

"The robot allows you to perform the surgery (not only) in high definition, but also in three dimensions," said chief of surgery Dr. Rob Schuster.

Schuster said the procedure is less invasive and painful and it cuts the risk of infection.

Doctors use state-of-the-art technology with a three-dimensional image of the surgical area. The display controls the surgical instruments, working with the doctors' hands, wrists and eyes in real time.

"It really allows us to perform a more precise and perfect operation," Schuster said.

Schuster said the new procedure will result in shorter hospital stays and shorter recovery times, so patients are able to return more quickly to their normal routines.

Banner Gateway Medical Center is one of only a handful of hospitals in the country that use this technology.

KPHO's report did not address any additional costs or risks from the assisted surgery.
Gastric Bypass Surgery Malpractice Lawsuits
Labels: bariatric surgery, gastric bypass, gastric bypass surgery, robot-assisted gastric bypass
posted by iLitigate at 1:15 PM