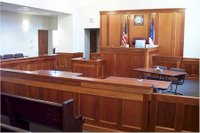 Augusta, ME
A northern Maine woman is seeking more than $3 million, alleging a laparoscopic gastric bypass surgery performed on her at MaineGeneral Medical Center in Augusta more than seven years ago was botched.

Opening statements began Wednesday in Kennebec County Superior Court in the case of Donna and Charles DeLong, whose mailing address is Westfield, vs. the hospital and Dr. Padiath A. Aslam.

The DeLongs claim Donna DeLong suffered numerous complications from the surgery and afterward was admitted multiple times to hospitals, including Aroostook Medical Center, for treatment.

The attorney for the DeLongs, Daniel Lilley, is seeking more than $3 million in compensation for the couple.

In one court document, the couple said they suffered an estimated economic loss of $816,452.

Aslam, represented by attorney Mark Lavoie, and the hospital, represented by Robert Newton, deny the allegations.

Lavoie told jurors that Aslam had done the surgery properly and that Donna DeLong suffered complications after straining herself playing with her son's dog within hours of being discharged.

Lavoie also said a medical practice screening panel -- set up to evaluate the merits of claims against physicians and surgeons -- found Aslam's actions met the standard of care.

In a ruling prior to the trial, Justice Nancy Mills ruled that Aslam was an independent contractor and not an employee of the hospital. "Defendant MaineGeneral Medical Center is not liable for any negligence on the part of Defendant Padiath A. Aslam, M.D.," she wrote.

Aslam was initially licensed as a medical doctor in Maine in 1970 and is currently working at Rumford Hospital with Rumford Hospital Surgical Associates. He is licensed to practice in Maine until Feb. 28, 2010.

He has not been subject to any disciplinary actions in Maine or in Vermont, where he also was licensed from 1970 to 2006.

Selecting the 11-member jury took all day Tuesday, and trial is expected to last three weeks. More than a dozen boxes full of files related to the case were stacked up against a railing in the back of the courtroom.
posted by iLitigate at 5:01 AM