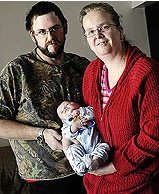 Pittsburgh, PA
Melody and Phillip McIntyre, both morbidly obese, tried unsuccessfully for three years after their 2003 marriage to have a child before Mrs. McIntyre decided to try a gastric bypass in hopes of increasing her fertility. Some obstetric nurse friends had told her they had seen "many success stories after the surgery."

And so Mrs. McIntyre, a nurse at UPMC-Horizon in Greenville who lives in West Middlesex, Mercer County, headed to Allegheny General Hospital for an appointment with surgeon Dr. Joseph Colella, director of the hospital's bariatric center.

"That was the first question I asked. I said, 'I want to have a baby. Can you help me?' " Mrs. McIntyre recalled.

The doctor answered "of course," talked to her and her husband about how obesity affects fertility, then suggested the same operation for Mr. McIntyre, a residential adviser for mental health patients. It was advice he followed after a cardiologist got his heart function working well enough to undergo surgery in April 2007, when he was 35 years old.

Mrs. McIntyre had her laparoscopic procedure in late October 2006 and then settled back to follow medical advice that female bariatrics patients wait a year to a year and a half -- or maybe even two years -- before trying to get pregnant in order to ensure there are no complications.

But it was Mr. McIntyre who had a complication during his 2007 procedure, hemorrhaging because his spleen had been traumatized. In going back in to find and stop the bleeding, doctors found a cancerous kidney tumor that they watched for a year before removing it all last April.

By that time, Mrs. McIntyre, now 34, was pregnant with little Trent, who was born Dec. 6. He was conceived just five months after she went off birth control.

Leslie Gore's story is even more amazing. The 24-year-old Penn Hills woman was told when she was 16 that she probably never would get pregnant because she had polycystic ovarian syndrome, a problem in which a woman's hormones are out of balance. Treated with hormones to induce periods, she steadily packed on the weight until she reached 285 pounds on a 5-foot-3 frame for a body mass index in the high 40s to low 50s.

Mrs. Gore, who is a pregnancy caseworker for Unison Health Plan, went to Dr. Dan Gagne (pronounced ga-NYAY), director of West Penn Hospital's Bariatric Surgery Center, for two reasons: in hopes of having a child and of getting healthy enough to live to raise him.

The surgery on Jan. 8, 2008 worked beyond her and husband Tyrone's wildest dreams: She got pregnant in October while still taking birth control pills. The baby is due July 4.

"We were both floored. We were completely caught off-guard," Mrs. Gore said.

She called Dr. Gagne to pass on the news and, she remembered, got this response: "I'm not surprised. Congratulations."



No wonder.



Since West Penn's bariatrics center opened in July 1999, Dr. Gagne said, "we've had at least 39 women get pregnant after bariatric surgery." Those are women who delivered full-term babies, he said, adding that at least five in the practice are pregnant now.

"Some of them had had previous pregnancies; a lot did not. A lot had diagnoses of polycystic ovary disease ... We had several who had had problems getting pregnant that did get pregnant."

Dr. Colella has had similar experience at Allegheny General and so has Dr. Anita Courcoulas at UPMC, where she is director of minimally invasive bariatric and general surgery.

"It's over 30 and that would be in six years," Dr. Colella said, "and those are the ones I know about who had infertility problems who moved on to successful conception and delivery."

One couple was so grateful that they named their son Joseph.

Dr. Courcoulas said the number of women who have become pregnant after weight loss surgery at UPMC's center in Magee-Womens Hospital is "definitely in the hundreds" but noted that the big number is due in large part to the size of the UPMC practice. "Just at Magee we do 1,100 weight-loss operations a year."

Though one recent medical bulletin from the Practice Committee of the American Society for Reproductive Medicine declared that "most obese women are not infertile," it also goes on to say, "Conversely, ovulatory function and pregnancy rates frequently improve significantly after weight loss in obese anovulatory women."

Certainly, the experiences of the Pittsburgh bariatrics doctors are that many presurgical patients are at least less fertile than normal.

"The take-home message is that fertility is certainly improved." said Dr. Ronald Thomas, director of maternal fetal medicine at AGH, whose department collaborated with Dr. Colella's on two published studies about pregnancy outcomes after the laparoscopic gastric bypass known as Roux-en-Y.

"In one article we talked about the fact that the typical advice is wait two years and stabilize before getting pregnant and the problem is many get pregnant after six, seven or eight months. ...

"[What happens is] patients begin to ovulate and get pregnant without trying to. The fertility comes back roaring into place. These patients don't realize their fertility markedly improves."



Hormones involved



Why does this happen? Doctors interviewed all cited changes in hormonal activity post-weight loss.

"A lot of times it seems to be the interplay of female hormones and fat," Dr. Gagne said. "Just as we see improvement in other health problems, this too happens in weight loss."

"I agree with that," Dr. Courcoulas said, "but we don't know exactly how."

"There's a dramatic change in the way hormones in the body are regulated after they lose all the fat cells," Dr. Colella said. "It's called the hypothalamic-pituitary axis, and its interaction with the ovaries gets reset to normal function so women begin to experience the normal circulation of hormones that trigger ovulation that occurs each month. ...

"The way we understand it in our world is the fat cells are an estrogen-producing engine and it overwhelms the axis and stops it from producing two hormones, follicle stimulating hormone and luteinizing hormone, and those two hormones are the ones responsible for triggering ovulation. So if they're not made in the appropriate amount in the appropriate time you don't get a normal ovulation event.

"And there also may be some changes in the lining of the uterus that make it less likely to allow implantation if an egg gets fertilized, but most commonly it's that they don't ovulate."

Dr. Scott Kauma, reproductive endocrinologist and director of the Jones Institute for Reproductive Medicine at the West Penn Allegheny Health System, theorized that resumed ovulation "might have to do with decreasing insulin resistance. It may be decreased circulating testosterone levels as they're losing weight or some unknown metabolic changes that stimulate the body to ovulate better. None of this is certain."

He said there's a similar uncertainty about why heavier women respond differently to other treatments, such as in vitro fertilization: "... the amount of medicine you need to use to get women to respond appropriately is much higher and pregnancy rates are lower. When I see the the pregnancy rates [of IVF] ... you're not guaranteed a pregnancy, but if you're obese the likelihood of getting pregnant compared to normal weight women is less."

Obese men are much less likely to undergo bariatric surgery because of fertility issues, but only because they are less likely to have the surgery at all. "There's an 8-2 ratio, women to men," Dr. Colella said, "but that's not because obesity is contained to women but because men are reluctant to seek help in specialty practices. The prevalance of obesity is roughly the same between men and women."



Helping men



And, Dr. Kauma said, men's fertility also is affected by their overweight.

"The heavier you are, the more of a problem you have with a lower sperm count," he said. "It may be that men who are heavy may have more estrogen floating around their bodies. The fat will convert testosterone to estrogen, and the estrogen tends to decrease the signals to the testes, which increase the sperm."

The other problem is that fat enveloping the scrotum elevates the temperature, affecting manufacturing of sperm. "The testes are in the scrotum because it's cooler there, which works better for sperm production," Dr. Kauma explained.

Though he was most interested in getting healthy and living long enough to raise a child, Phillip McIntyre said he had been told by two doctors that his fertility would be improved "and it was in the back of my mind that it would help."

Dr. Courcoulas also said she has "a couple [male patients] in the works right now [with improved fertility] as one of the reasons they're pursuing surgery."

Weight loss achieved through diet or a preferred combination of diet and exercise also would improve fertility, but, Dr. Kauma said, "90 percent of people who diet have trouble keeping it off. ...

"The most successful way to lose weight and keep it off for good is gastric bypass or banding."
Labels: bariatric surgery, gastric bypass research, patient stories
posted by iLitigate at 8:29 PM