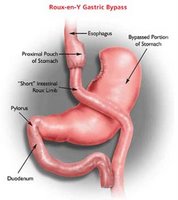 Maryville, TN
While bariatric, or surgical weight loss, procedures can help morbidly obese people lose significant weight, the potential health gains from the surgery are even more impressive. According to the American Society for Metabolic and Bariatric Surgery (ASMBS), recent studies have shown that, in some patients, bariatric surgery can completely reverse type 2 diabetes and can reduce the risk of certain cancers.

Bariatric surgeon Dr. Mark Colquitt, who practices at the Blount Memorial Weight Management Center where 84 percent of surgical patients are female, says that resolving or improving obesity-related health conditions is the primary goal of bariatric surgery. "The reason we do this surgery is to treat co-morbidities, which are medical conditions that exist in addition to obesity and often are a result of being overweight. A lot of people, including some physicians, look at weight loss surgery as a cosmetic procedure, but that is not true. Bariatric surgery is a tool we can use to help save lives and improve the quality of those lives."

The National Institutes of Health has identified obesity as the second leading cause of preventable death in the United States, and recognizes bariatric surgery as an effective alternative for morbidly obese people who have tried, yet failed to lose significant weight. The weight loss achieved through bariatric surgery can help resolve a wide variety of serious medical issues ranging from high blood pressure to joint pain.

Colquitt explains that additional health benefits can be realized from the metabolic changes, which occur when the digestive process is surgically altered. For example, a 2008 study reported in the September issue of the journal Cell Metabolism found that obese diabetes patients who have gastric bypass weight loss surgery often show dramatic improvement in blood sugar control within days, long before significant weight loss occurs.

"A single bariatric procedure has the potential to cure at least five diseases. Following surgery, the cure and improvement rates for adult-onset diabetes, hypertension, sleep apnea, gastroesophageal reflux disease and hypercholesterolemia are remarkable."

Weight loss surgery typically takes one of two approaches -- a restrictive procedure that decreases food intake or a malabsorptive procedure that alters digestion. Some procedures combine both approaches. The Blount Memorial Weight Management Center, which is designated as a Bariatric Surgery Center of Excellence by the American Society for Metabolic and Bariatric Surgery, currently offers three bariatric and weight loss options: gastric banding, gastric bypass and gastric sleeve. Each has proven effective, Colquitt says, in resolving a wide range of conditions ranging from diabetes to depression.

"If you can lose the weight and keep it off, then the illnesses will get better. For people who have repeatedly tried and failed to lose weight, bariatric surgery offers the opportunity to live a full, active and long life. It really is a life saver."
Labels: bariatric surgery, gastric bypass, gastric bypass surgery education, weight loss surgery business
posted by iLitigate at 6:43 PM