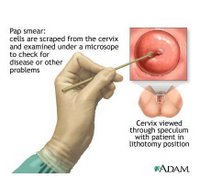 Baltimore, MD
In honor of January being Cervical Cancer Awareness Month, the Baltimore County Health Department is offering free Pap tests, mammograms and breast exams for eligible women between 18 and 65.

The department also screens for eligibility, schedules appointments and manages the cases of women with abnormal test results.

About 11,000 women in the United States are diagnosed with cervical cancer each year, and more than 3,500 women will die from the disease. A Pap test, which is recommended annually, is one of the most effective ways to detect cervical cancer, health officials said.

For more information on these free tests, call 410-887-3432 or visit baltimorecountymd.gov/go/cancerprogram.
Labels: Cervical Cancer Prevention, Cervical Cancer Screening, Pap Smear, Pap Smear Test
posted by iLitigate at 8:44 PM