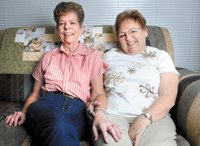 Yuma, AZ
Betty Lee used to weigh 245 pounds; her sister-in-law, Jean Ferguson, weighed 226 pounds. Both can recall painful memories that caused them to feel ashamed as children and adults.

"I've been heavy all my life ... I can remember in high school ---- when you choose teams for basketball or baseball ---- I was among the last because I was always heavy," Ferguson said.

For Lee, the most painful memories are of people ignoring her. "They ignore you because they are embarrassed for you. That is what I found more than anything. They think to themselves, 'Oh that person could lose weight if they really wanted to,' and they don't understand how difficult it is."

But after having gastric bypass surgeries, Lee weighs 120 pounds and Ferguson weighs 180.

Lee and Ferguson are among 10 members of an extended family who underwent the procedure. Ferguson says all 10 agree that it is one of the best things they could have done for themselves.

Ferguson's three daughters, one granddaughter, two nieces and one nephew all had the surgery.

Lee had her surgery in April 2006 at the Alvarado Hospital Medical Center in California. So did Ferguson, who went through her surgery in January.

Lee's bypass surgeon was Julie Ellner, a bariatric surgeon at Alvarado Hospital. Through an e-mail, Ellner described how the surgery is done.

"The stomach is divided into two sections, creating a 'top' piece that is the size of a golf ball that receives the food. The rest of the stomach remains in place but is no longer attached to the 'new' small stomach ---- it is traced down to the next part of the digestive tract, called the small intestine. The small intestine is then attached to the 'new' small stomach to catch food.

"A very small amount of food will completely fill the 'new' stomach, and the person feels full immediately. When the food passes into the small intestine, the hormonal craving for food decreases and the brain's desire for food shuts down."

Lee and Ferguson both say they went through the surgeries for health reasons.

Lee had the surgery "because I had become borderline diabetic and my blood pressure was going up. I was getting into a very unhealthy category."

"The reason I did it," said Ferguson, "is because I'm on high blood pressure medicine and was borderline diabetic ... I could feel myself slowing down as I aged, and I thought to increase my health and longevity for life, I needed the surgery."

Now two years after her surgery, Lee says she feels like a new person.

"I lost more than half of my body weight, so I can walk and exercise. I went back to work after being retired for 12 years. You have energy (and) you feel good."

Although the surgeries were a success for Lee and Ferguson, Lee wants people to know that bypass surgery is a tool and not a cure for obesity.

"Of course you have to eat properly," Lee said. "There are certain rules to the menu that you have to maintain, and vitamins that you have to take.

"You have to take vitamins and you have to drink water, and you have to exercise, and no snacking. If you follow those guidelines you will be successful," Lee said.

"The surgery is not a quick fix and the patients need to be motivated" before the surgery, Ellner said. "If not, then I don't operate on them."

Ellner performs around 200 surgeries a year, and the candidates have to be 90 pounds over their ideal weight. She also has "long conversations" with her patients to inform them about certain side effects that come with the surgery.

"Complications can be caused by not following instructions," Ellner said. A leak between the stomach and the intestine can develop, or a pulmonary embolism can be caused by a clot that forms and goes to the lungs. Because of these risks, Ellner gives two-hour seminars on obesity, how the surgery is performed, the risks and benefits of the surgery and who would be a good candidate for the surgery.

The best patients are willing to make the commitment by researching for themselves what the surgery involves, Ellner said.

Ferguson's husband, Phil, who was 67 when he went through the bypass surgery, used to weigh 265 pounds and now weighs 180.

"I'd do it again if I had to. My wife is the 10th person in the family to have it done," Phil said. "It's good for your health, and if you got certain problems, it will relieve them."
Labels: patient stories
posted by iLitigate at 7:55 PM