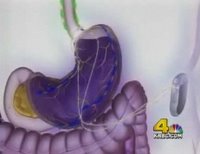 Irvine, CA
A weight-loss device placed under the skin is being tested at UC Irvine, KNBC's Dr. Bruce Hensel reported.

College student Jeff Collins, 24, has struggled with his weight his entire life despite trying everything from dieting to weight loss drugs.

"I've been fat, thin, fat, thin, all my life," Collins said.

When medication failed Collins, he considered gastric stapling or bypass until he heard the downsides.

"I went to an information session with 100 other people. They said there was a 1 percent mortality rate with the operation, and I looked around the room and realized one of us in this room would die. That scared me," Collins said.

What didn't scare Collins was a study at UC Irvine on a new weight loss device called VBLOC.

"The VBLOC's completely different. It doesn't alter the anatomy. It doesn't restrict the quantity of food you eat. Essentially, it actually inhibits the signal that runs between the stomach and the brain," said Dr. Ninh Nguyen of UC Irvine Healthcare.

According to VBLOC researchers, two tiny parts are placed under the skin. One turns the other on and it blocks signals to the nerve, which may control hunger signals to the brain.

Results have varied and the device's makers said, "The results of this study and this patient are not a claim for the potential effectiveness of VBLOC Therapy."

Although Collins had his procedure in January, both he and the researchers don't know if he's in the active group that had the device turned on or the inactive group

"I think it is on," Collins said. "I feel a change in my eating habits. I mean, before the surgery I could go to McDonald's and get a super-sized meal and eat all of it and still not feel full. Now, if I try to order it, I feel full before eating everything."

"Some preliminary data from outside the U.S., particularly Australia and Mexico, have shown that the excess weight loss at about six months is relatively good, (and) about 22 percent of excess weight loss at six months," Nguyen said.
Labels: gastric bypass surgery alternatives, patient stories, VBLOC implant
posted by iLitigate at 2:40 PM