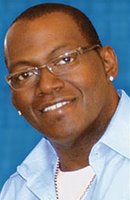 WebMD
American Idol's beloved bassist Randy Jackson turned a lot of heads when he joined his legendary colleagues Paula Abdul and Simon Cowell at the judge's table in 2004. The Grammy Award-winning producer was looking a whole lot slimmer than he had in previous seasons of Fox's blockbuster talent search show. Four years later, he continues to keep off his impressive 100-plus pound loss, after peaking at a hefty 350 pounds.

Now hitting the scales at 220 pounds, Jackson admits that over the years he had tried as many diets as there have been Idol finalists. "Liquid fasts. Bee stings. Urine of pregnant women. You name it. I have tried it," Jackson, 55, tells WebMD today, only half kidding. "The problem is that those diets don't work for people who have the disease of obesity."

So what finally did the trick for the Dawg, as Jackson calls himself?

Getting diagnosed with type 2 diabetes in 2001 was the final straw. And although this set him on his current path, there were -- and still are -- some bumps along the way. "The struggle continues." he says. "It never ends."

In 2003, Jackson opted to undergo gastric bypass surgery, a procedure in which a surgeon creates a smaller stomach pouch to curb food intake by stapling a portion of the stomach, to energize his weight loss efforts and step on the path toward good health.

But weight loss surgery is not a magic bullet. Like many people who undergo gastric bypass, Jackson eventually started gaining weight back. That's why Jackson says he committed himself to eating the right foods and kick-starting his fitness routine. Neither of which was easy for this Louisiana boy who loves rich sauces and beignets. "I grew up in the South," he says, "where food and good times were king."

And it's this part of his journey that makes up the heart of his new book, Body with Soul: Slash Sugar, Cut Cholesterol, and Get a Jump on your Best Health Ever.
Labels: celebrity gastric bypass
posted by iLitigate at 8:38 PM