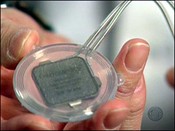 Stanford researchers to test alternative to risky surgical procedures
Stanford University is starting a clinical research study on obesity that would give patients an alternative to invasive surgical procedures. The study, called Empower, will evaluate the safety and efficacy of an experimental method, called VBLOC Therapy, that periodically stops the body's neural messages of hunger and fullness from reaching the brain.

Empower is searching for recruits from around the Bay Area. Applicants must be between 18 and 65, with a body mass index between 35 and 45.

A 2001-2004 health and nutrition study by the National Institutes of Health found that about 66 percent of American adults are overweight and nearly one-third are obese.

"About 12 million Americans qualify for the study," said Dr. John Morton, associate professor at Stanford Hospital and Clinics.

"Obesity is now a global medical concern," added Morton, who is leading the study, "and is considered to be one of the leading causes of preventable death, second only to smoking."

Obesity is related to serious health risks such as hypertension, high cholesterol, sleep apnea and osteoarthritis as well as certain types of cancer.

To avoid these health problems, patients often turn to gastric bypass surgery, a major abdominal procedure with high risks and moderate benefits, according to Morton.

"No clinical or medical complications occurred" during international VBLOC trials, said Morton, who added that he has recorded no patient deaths in 1,200 gastric bypass
Advertisement
operations.

Through the use of implanted electrodes, the VBLOC Therapy blocks the vagus nerve, intermittently stopping the signals of hunger and satisfaction carried from the stomach to the brain.

After a trial VBLOC study conducted outside the United States showed nine participants had excess weight loss of 29.5 percent after nine months, the Food and Drug Administration approved Morton's clinical study.

Participants can expect a comprehensive trial study as they meet with staff during 43 clinical visits that include nutritional and psychological counseling over the course of five years.
To learn more about the study, visit
http://www.empowerstudy.com
or call 866-978-2562.
Labels: bariatric surgery, gastric bypass research, VBLOC implant
posted by iLitigate at 4:00 PM