What is Gastric Bypass Surgery?
What is the Roux-en-Y Gastric Bypass Operation?
One type of Gastric Bypass Procedure is called the "Roux-en-Y Gastric Bypass." Gastric Bypass Surgery is an invasive surgical procedure that can cause tremendous weight loss. Gastric Bypass Surgery should only be performed to treat patients that are morbidly obese.
The Gastric Bypass operation combines the surgical creation a small stomach pouch that is connected to a Y-shaped limb of small intestine to a lower part of the small intestine, thereby completely bypassing certain segments of the small intestine.
Gastric Bypass surgery can cause tremendous weight loss through a combination of "Restriction" and "Malabsorption" of the food the patient eats.
Restriction. The reduction of the functional size of the stomach to a small stomach pouch drastically restricts the amount food the patient can eat. Restricting the amount of food a patient can eat restricts the amount of calories the patient can consume.

Malabsorption. The bypassing of segments of the small intestine when reconnecting the small stomach pouch causes a decreased ability of the patient to absorb nutrients from the food he or she eats. Decreasing the amount of nutrients absorbed into the body reduces the amount of calories absorbed into the body.
It is easy to understand how the combination of drastically restricting the amount of food one can eat while at the same time decreasing the amount of nutrients in that food which can be absorbed by the body, together, result in tremendous weight loss.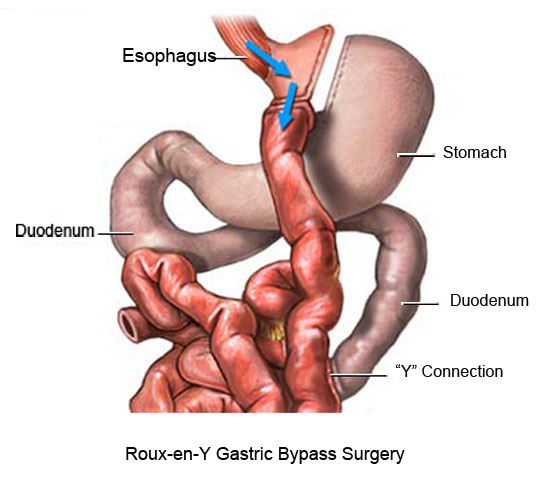 Where can we take you now?
For more information about Gastric Bypass Surgery Malpractice, Click Here.
To fill out our Free Online Questionnaire, Click Here.