Types of Medical Malpractice and Surgical Malpractice
Birth Injuries and Labor and Delivery Malpractice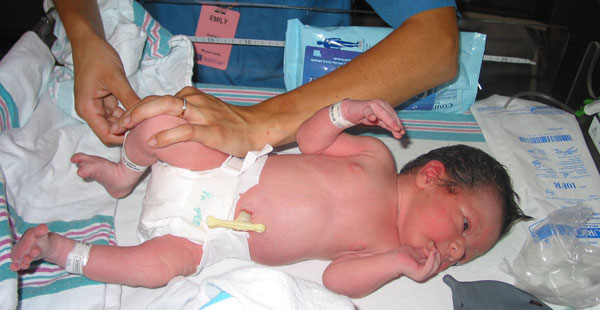 Like most babies born today, the baby above is perfectly healthy. Some aren't so lucky.
Birth Injury Malpractice
Twenty-seven out of every one thousand births involves some sort of injury. A birth injury can happen at any time during labor and delivery, or immediately following birth. When a birth injury is caused by the mistake(s) or carelessness of a doctor, nurse or other medical professional, medical malpractice has occurred.
Oxygen Deprivation and Brain Damage
Some birth injuries are caused by the baby not getting enough oxygen ("oxygen deprivation"). While many "natural" circumstances can cause a baby to suffer oxygen deprivation, there also are many instances in which oxygen deprivation is caused by medical malpractice on the part of the doctors, nurses, and/or other medical care professionals attending the labor and delivery process, or caring for the baby shortly after birth.
Many babies with birth injuries will recover fully and quickly. Some, however, will suffer lifelong damage as a result of the injury. When a baby does not get enough oxygen, he or she may suffer brain damage as a result. Cerebral Palsy, mental retardation, epilepsy, and autism all can be caused by oxygen deprivation as a result of medical malpractice.
While certainly representing all of the ways medical malpractice can result a baby suffering brain damage or other birth injury, the following are among the most common:
Delayed Cesarean Section


Complication with a VBAC (vaginal birth after C-Section) delivery


Miscalculation in the size of the baby


Failure to notice Fetal Distress


Placenta Abruption
The economic and emotional effects of an infant's birth injury on a family can be devastating. The emotional impact of a permanent brain injury on the newest member of a family is enormous. On top of that, the additional financial burden that may result from incurring the costs associated with raising and properly caring for a special needs child can be overwhelming. We can help.
If you believe your baby has suffered an injury as a result of medical malpractice, act now. Contact us today for a free no-obligation consultation with a birth injury malpractice attorney. At Hurtbyadoctor.com, we are committed to empowering the families of victims of birth injuries. We provide zealous legal representation and compassionate support. We have collected millions of dollars for the victims of birth injuries and their families in the past and are dedicated to continuing our success in the future. Together, we can make life better and safer for everyone.
Click a Link to Learn More